OPtHA History
Oregon Pinto Horse Association a Charter Club of the Pinto Horse Association of America (PtHA) which was founded in 1956 - primarily as a color registry. Today, PtHA is strong, growing and much more than just a color registry. It is an association that involves people, families and their horses from all over the world.
The Association maintains a large and rapidly growing registry for Pinto horses, ponies and miniature horses. Local Charter organizations are active in most areas of the United States and Canada, and through their affiliation with PtHA, unify and support the colorful, unusually diversified and beautifully versatile PINTO.
Oregon Pinto Horse Association's members consist of families and small breeders that enjoy a wide variety of equestrian related activities. Our club has been in existence for over 20 years promoting the excitement of owning a Pinto! Meetings are held once a month and everyone is welcome to join us. Oregon Pinto is chartered by the Pinto Horse Association of America.
Oregon Pinto strongly supports Youth and Amateur programs, year-end awards, snaffle bit and halter futurities, trail rides, potlucks and much more.
Our OPtHA Miss Oregon Pinto Queen
The queen participates in parades and rodeos around the state. She is well known for her many trophies and top honors, including nine consecutive wins in the Rose Festival Parade in Portland, Oregon.
Our OPtHA Pintos
Each animal registered is classified into a type determined by conformation. Breeders are encouraged to perfect their specific type thus striving to improve each generation for style and talent. Conformation dictates what a horse can do well for his rider. Color adds excitement! Pinto horses come in all shapes, sizes, colors and breeds. Saddlebred, Morgan, Arabian, Quarter, Thoroughbred, Welsh, Hackney, Shetland and Miniatures are a few of the breeds with the recognized color patterns being Tobiano and Overo. Many pintos are double or triple registered.

Pinto Types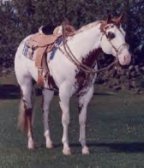 Stock Type Pintos
- Predominantly Quarter Horse breeding and conformation. Some Paint horses are double registered as Pinto. Ponies resemble the Quarter Horse and Shetland Pony.

Hunter Type Pintos
- English horse of predominately Thoroughbred breeding. Again, some Paint horses are seen here. Ponies reflect influence of Connemara pony conformation.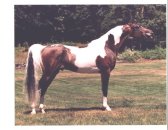 Pleasure Type Pintos
- Predominantly Arabian or Morgan breeding. Many are double or triple registered. Ponies reflect influence of Arabian, Morgan and Welsh pony conformation.

Saddle Type Pintos
- English horse of predominantly Saddlebred, Hackney, Tennessee Walking horse or Missouri Fox Trotter breeding. This type pony reflects the Modern Shetland and Hackney influence. Type is known for high carriage and animation.
Miniature Type Pintos
- Division A Miniature Horses are 34" & Under in height and Division B Miniature Horses are Over 34" - 38" in height.